"If you guys were strippers what would your stage name be?"
Louis: you've got "Horny Horan"
Harry: he's "Tommo the Tease"
Liam: "Hairy Harry"
Zayn: "Asian Persuasion"
Louis: Liam would be just "Payne"
Zayn: here comes the "Payne"
AH HAHAHAHA. WHERE IS THE STRIPPER AU, PEOPLE. WTF GIVE ME A BREAK.
also, so I went out last night with
mediaville
and drank a LOT of wine, but felt ok about it all the way home! and then I went to bed and got up to pee and FELL ON MY FACE I WAS SO DRUNK. wtf? I dont even understand that.
ANYWAY, since I was with M we had lots of harry TALKS and many harry FEELS and while I was sleeping I started thinking about girl!harry but not always a girl harry, more like, wakes up a girl harry and he's all WHOO HOO THIS IS AWESOME EVERYONE HAVE GIRL SEX WITH ME. and like, it would kind of WORK because it wouldnt be like harry just sleeping with everyone, but more like, I dont know, kind of joking around HEY CHECK OUT MY BOOBS IM SO HOT COME HERE AND FEEL ME UP and they'd all be like, OK. and he'd still be all walking around NAKED and they're like, UHM, YOU CANT DO THAT ANYMORE and he's like, PFFFT OF COURSE I CAN. and everyone goes down on him and he like, gets himself off ALL THE TIME on every available surface and its just a big sex fest where everyone has girl sex with girl harry and no one gets weird about it because its not really REAL, he's not REALLY a girl and then he changes back and they're all like, meh, ok, let's go golfing and then its THE END.
so. you know. WHERE IS THAT FIC TOO??
you know what's relevant to my interests today, lj?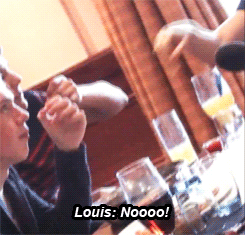 there is NOTHING I LIKE BETTER than the idea of liam NOT being all stuffy and responsible all the time. NOTHING. NOT ONE THING. like, I love that of the five of them he's THE MOST responsible, but come on. he's also 18 and surrounded by IDIOTS. I LOVE that he's been so funny lately. the thing with the cat on stage? "niall would name her demi lovato" HAHAHAHA. also, him teasing/pranking louis is...
SAKJFHGDKJFGSJFHDGF
PRETTY MUCH THE BEST THING EVER. I am having a HARD TIME dealing with that, tbh. just thought you all should know.