world, my kid is going to be five tomorrow. F I V E. do you remember when I was pregnant? sometimes it seems like not that long ago, and other times I feel like the last time I had a life without children was a HUNDRED YEARS AGO. AT LEAST.

the good news is her party was yesterday, was a tremendous success (seriously, great weather, the pool, awesome family and friends and a very cool DJ) and the very best thing about it?

IT IS OVER. FOR ANOTHER WHOLE YEAR.

so that means I have some TIME again to do things like, idk, watch Harry try and deliver a baby, think about all other kinds of scenarios of Louis and Zayn teaming up to prank the others, and finish my comment fic which is taking FAR TOO LONG TO GET PANTS REMOVED. and then work on my real fic because Harry and Zayn are JUST ABOUT TO DO IT. SERIOUSLY, GUYS. JUST DO IT.

and also, so ok.

so there's a Liam/Zayn comment fic thing going on now which I LOVE. and I LOVE LOVE LOVE the scenario where Zayn is like, ZAYN, the famous rockstar and Liam is shy and quiet and a total fanboy and then they get together and there is lots of kissing and touching. I LOVE THOSE FICS. but lately all I want is the OPPOSITE. like, Liam is this pretty famous singer, songwriter, guitar player dude (like a kris allen type) and zayn is this tattooed cool hipster dude who SO DOES NOT ADMIT he thinks liam PAYNE is a good musician. and he lies to his friends and sneaks off to go to a liam payne concert that night and, idk, THINGS HAPPEN WHERE THEY KISS A LOT. SOMEHOW. I dont have much more than that. does that fic exist? please tell me it exists.

the other thing I want is tattoo!artist zayn whos shop is right next door to bakery worker!harry. and harry passes zayn smoking outside the shop every morning and kind of has a crush on him so he finally works up the nerve to go in and get a tattoo just because he wants zayn to have to touch him. and then he goes back for more and more until finally louis is like, harry, you work in a BAKERY. you cannot AFFORD to keep getting TATTOOS. just ask him out! and harry is like, I DONT KNOW, YOU THINK? and louis is like, HOW ARE WE FRIENDS. (possibly zayn is bff with liam and niall and liam and louis hook up too. I AM GUESSING.) sadly, my ability of writing au's is VERY VERY SMALL so, you know, SOMEONE WRITE THIS FOR ME AS WELL is what I am saying.

in conclusion, these are two of my VERY FAVORITE HUMANS: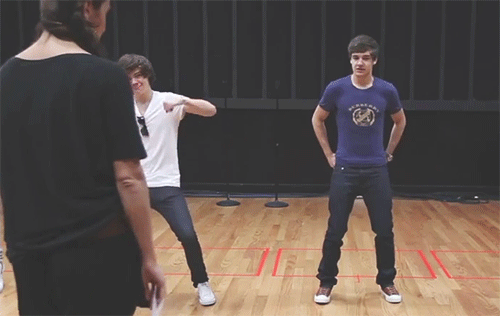 YOU GO HARRY. YOU GOT DEM MOVES. OH MY GOD I LOVE HIM SO MUCH. SO MUCH IT MAKES ME WANT TO CRY. AND LIAM. YOUR HIPS. SOMEONE SHOOT ME IN THE FACE. ITS THE ONLY KIND THING TO DO.